Sabrent 3-Port USB Type-A Hub with Gigabit Ethernet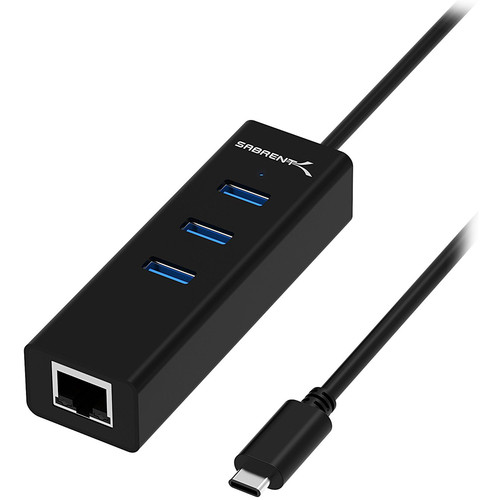 Sabrent HB-NTUC Overview
Add additional connectivity to your system with the 3-Port USB Type-A Hub with Gigabit Ethernet from Sabrent. Featuring a USB Type-C interface, this adapter is ideal for notebooks that aren't equipped with Type-A or an Ethernet port such as the Apple MacBook. Once connected, this adapter provides you with three USB Type-A ports for peripherals and devices, and 10/100/1000 Mb/s Ethernet for fast and reliable wired Internet access. Moreover, it's made from aluminum and features a compact, lightweight design that's easily portable.
Please Note:
2.4 Ghz wireless devices, such as wireless keyboard and mouse adapters, may not work in close proximity to USB 3.0 devices or hubs. Connecting to a USB 2.0 port is recommended.
For a stable connection, the devices connected to the 3-Port USB 3.0 Hub must not exceed a combined current of 5 volts 900 mAh. External hard-drives should be connected to an external power source.
This 3-Port USB 3.0 Hub will not charge your device (only sync).
You may need to turn AirPort off to disable wireless adapter. In some cases, you will need to power cycle your router or modem.